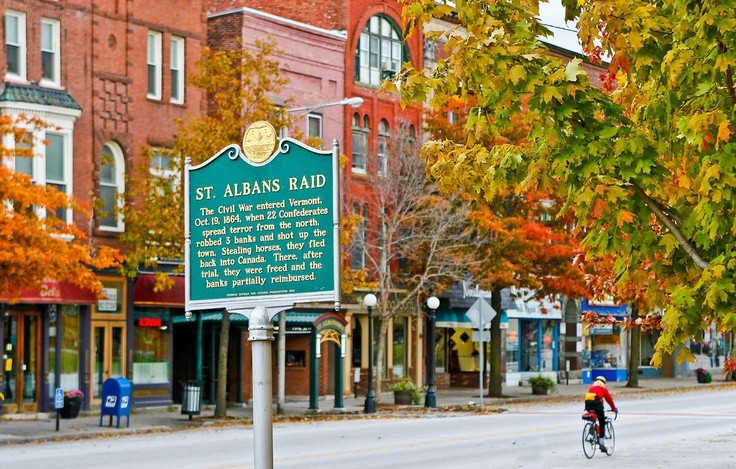 pinterest
St. Albans Raid
---
Bennett Henderson Young was born in Kentucky in 1843.  While attending Bethany Academy In the spring of 1861 Bennett was involved in a dispute concerning the flying of a Confederate flag at that school. In September 1861 he entered Centre College in Danville. In October of that year Young contracted typhoid fever, and he was forced to drop out of college.  
With his recovery from typhoid fever complete, in early 1863 Bennett Young was able to evade Union forces and enter Tennessee.  He located General John Hunt Morgan's unit in mid-Tennessee which had recently returned from their remarkable "Christmas Raid".  Young enlisted as a private in Co. B of the 8th Kentucky Cavalry.  This unit was commanded by Col. Roy Cluke, and had been originally formed in central Kentucky during the 1862 Kentucky Campaign.  The members of Company B were Bennett's friends and neighbors from Kentucky.  
For seventeen days during July of 1863 Morgan's men fought their way across the width of Ohio on the longest Calvary raid of the war.  Young proved his courage and leadership skills during this action.  His commendable traits were noted by his officers.  
After their capture, Young and many of the other soldiers from Morgan's units were confined briefly at Camp Chase then moved to Camp Douglas in Chicago in August.  Bennett attempted an escape but failed.  He was subsequently successful in bribing a Union guard and escaping in early 1864.  Unable to move south to the Confederate lines, he made his way into Canada.  
After making contact with Confederate agents in Toronto, Young left Halifax, Nova Scotia in June for Bermuda.  He had obtained passage on a blockade runner bound for the last open port of the Confederacy at Wilmington, North Carolina.  He once again proved his courage acting as a lookout for the ship when it was under fire.  In Richmond, he met with James A. Seldon, the Secretary of War.  Mr. Seldon approved his plans and commissioned Young as a First Lieutenant.  
Upon arriving back in Canada, Young started assembling a group of other escaped Confederate soldiers.  Lt. Young judiciously selected twenty-one men, almost all of whom were Kentuckians from Morgan's command.  He knew he could trust these men.  The objectives of the raid were: retribution; diversion of Union troops to protect New England; create doubt in the Union population about the handling of the war; influence the coming presidential election; and, to obtain funds to finance Confederate operations.  
In mid-October, Young and his men arrived in St. Albans, Vermont in parties of two or three men each over a ten day period.  Originally planned for Oct. 18, the raid was put off for a day as it was determined that activities on "butter day" would make the mission riskier.  The next day, as luck would have it, about 40 of the town's leading men would be out of the area on legal business.  And thus, one hundred and fifty-two years ago today, on October 18, 1864 the St. Albans raid took place.  
As bank robbers Lt. Young and his men succeeded in doing something the James-Younger or Dalton gangs never did.  They successfully robbed three banks simultaneously without losing a man.  The attackers wore civilian clothing. The raiders were mostly young. The oldest was 38, but all the others were between 20 and 26.  A church clock's ring at 3 o'clock was the signal for the robbers to enter the banks.  They obtained $208,000.  It was a considerable amount of money at that time.  They escaped to Canada, but were arrested and most of the money was confiscated and returned.  The raiders were later freed.  
After the end of the Civil War, President Andrew Johnson issued an amnesty proclamation, but Young was excluded.  He could not return home until 1868, and spent time studying at the University of Edinburgh.  When he did return home he became a prominent attorney in Kentucky.  Young founded the first orphanage for blacks in Louisville, a school for the blind, and spent much of his time providing free legal work for the indigent.  He was also the National Commander of the United Confederate Veterans.  
Doc Halliday can be contacted at w_halliday@yahoo.com
Photo is courtesy of pinterest.com
(Visited 97 times, 1 visits today)