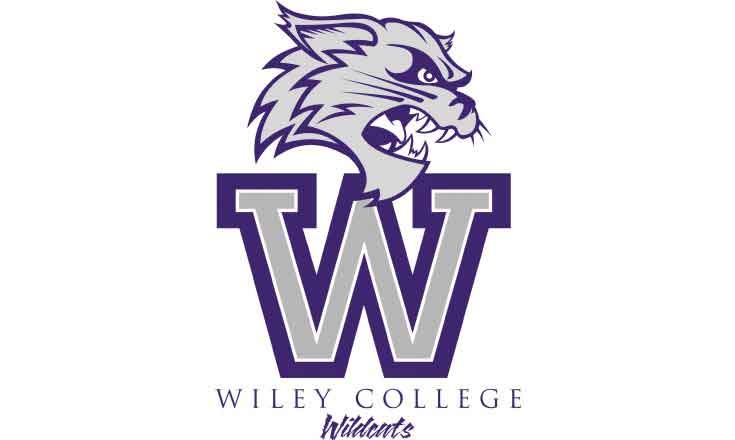 No. 11 Wildcats take control in second half to tame Tigers
---
DALLAS – The No. 11 Wiley College men's basketball team pulled away early in the second half to pick up its 10th win of the season in a 75-57 victory over Paul Quinn College Friday.
In a first half that featured seven ties and eight lead changes, Wiley College held a 29-28 advantage. Though the Wildcats committed more turnovers, they outscored Paul Quinn 10-6 in points off turnovers. Wiley College didn't allow the Tigers any second chance opportunities and outrebounded them 21-13 in the first half.
The Wildcats (10-1) went on a 13-2 run early in the second half – which turned a one-point deficit into a 10-point lead. Kevondric Davis started the run with a 3-pointer. Wiley College got second-chance buckets from Ricardo Artis and George Page. Xavier Graves hit two free throws and Stephen Taylor knocked down a 3-pointer. Wiley College didn't see its lead get lower than eight points.
"We played better defense," head coach Jameus Hartsfield said. "We hit a couple 3-pointers to create separation."
In the second half, the Wildcats shot the ball better as they hit 15 of 26 field goal attempts – including four for eight from 3-point territory. Wiley College held Paul Quinn to eight for 28 from the field. The Wildcats dominated the glass with 28 rebounds in the second half to 11 for Paul Quinn. For the game, Wiley College out-rebound the Tigers 49-24.
Page, the reigning NAIA Player of the Week, shot nine for 13 from the field to lead all scorers with 27 points. He also led all players in rebounds with nine. Kevondric Davis contributed 11 points and four rebounds. Stephen Taylor gave the Wildcats a boost off the bench with 11 points, three rebounds and two assists.
"Stephen is always a threat offensively," Hartsfield said. "I'm glad he got going tonight."
The Wildcats will rematch with Dallas Christian College at 7:30 p.m. Monday. Wiley College won the first meeting 103-72 on November 1 at Alumni Gymnasium.
(Visited 73 times, 1 visits today)