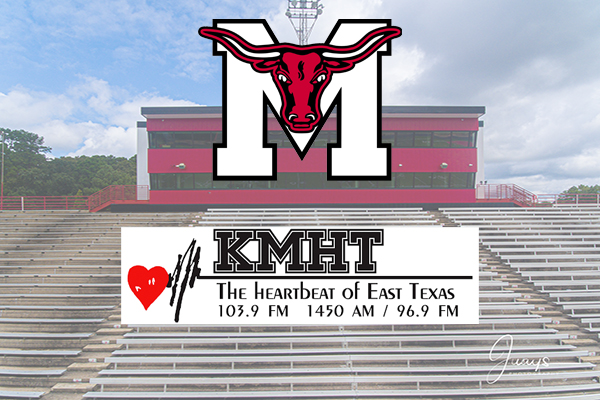 KMHT To Provide Video Live Streaming Of Marshall Mavericks Football
---
KMHT, which has been the broadcast home of Marshall Maverick sports for over 17 years, will add video live streaming to this year's broadcasts of Maverick Football games.

KMHT has served as the exclusive radio voice of Maverick athletics for almost two decades, but the station and Marshall ISD have agreed to expand the broadcasts by adding live streaming video capability this year under relaxed rules announced earlier this summer by the University Interscholastic League.

"Due to the ongoing challenges created by COVID-19, we know that it may be difficult for some fans to attend the games in person this year," said Chris Paddie, Vice President and General Manager of Hanszen Broadcasting Inc., which owns KMHT. "With the addition of video streaming, Maverick fans won't have to miss any of the action and will be able to safely watch Maverick games on their computer or handheld device."

Prior to the COVID-19 pandemic, the UIL rules stipulate that a football contest that takes place on Friday nights during the regular season may not be telecast or webcast live. A tape-delayed telecast of the contest was allowed, but had to be withheld from broadcast until at least one hour after the end of the game.

Earlier this summer, the UIL temporarily lifted the rule to allow individual ISDs to live stream their own games due to attendance restrictions and other concerns related to the spread of COVID-19. The change is only good for the regular season, and as of now is currently in effect for only the 2020 season.

KMHT's broadcast team of Josh Green and Chase Palmer will continue the traditional radio broadcast, with the audio being pumped into the live stream video as well.

"We are excited and grateful that KMHT continues to make an investment into Marshall ISD athletics with this addition of live stream capability to broadcasts of Maverick Football," said David Weaver, MISD Director of Communications. "Fans who cannot make it to the game or into the stands due to seating limitations will still be able to catch every play for the Mavericks this season."

"As the exclusive voice of Marshall Maverick sports for over 17 years, we are proud to partner with Marshall ISD each year to promote their student athletes and to provide LIVE play by play broadcasts of games," Paddie added. "We are excited to be able to offer this additional broadcast feature and we are looking forward to a successful season."

The Mavs' season opener is scheduled for Sept. 25 vs. New Caney in Maverick Stadium. The live stream link to the broadcast will be provided during the week leading up to the game.
(Visited 698 times, 1 visits today)