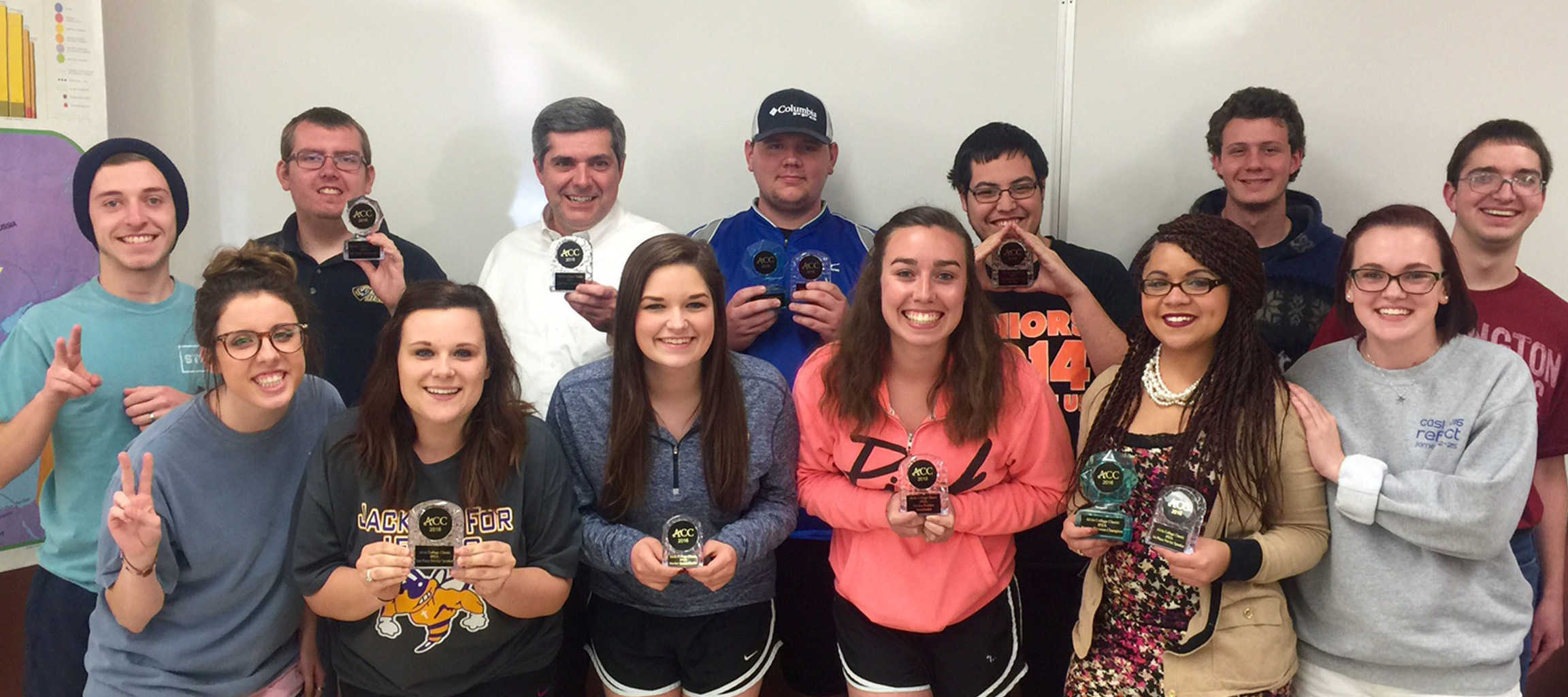 ETBU Debate
Two ETBU Debaters Win Championships: Team Earns Second Place Victory
---
MARSHALL – The East Texas Baptist University Debate Team participated in the Alvin College Classic Debate Tournament in Alvin, Texas, March 4-5, and two team members came home with a division championship.
Sophomore TeleMa Blackman of Alexandria, La. won the Novice Division Championship at the tournament and was also the top-ranked speaker in the Novice Division. Blackman posted a 5-1 preliminary record and after winning her quarterfinal round, advanced through the semifinal round over ETBU teammate Harleigh Parrish of Huntington, Texas, on a coach's decision.  Blackman is currently the nation's number one novice debater in the International Public Debate Association, ahead of 457 other competitors throughout the country.
Parrish also finished the tournament with a 5-1 preliminary record and advanced to the semifinal round after moving past fellow ETBU team member Carrie Sparks of Beaumont on a coach's decision in the quarterfinal round. Parrish also finished as the second-ranked speaker in the Novice Division.
ETBU debater Shayne Davis of Marshall won his second tournament championship of the year in the Junior Varsity Division. Davis' preliminary record was 4-2 and he was the third-ranked speaker in the Junior Varsity Division.
Dr. Cole Franklin, ETBU professor and coach of the debate team competed in the Professional Division of the tournament and finished as a finalist in the division after posting a 5-1 preliminary record and winning his semifinal round. Franklin was also the second-ranked speaker in the Professional Division.
As a squad, the ETBU team won the second place sweepstakes team award finishing ahead of universities such as Stephen F. Austin State University and Louisiana College. In total, seven universities participated in the two-day tournament.
Other ETBU debaters that competed at the tournament included junior Jaycee Greer of Deweyville, senior Chad Herring of Brookhaven, Miss.,  CJ McGill of Magnolia, Kayla Robinson of Magnolia, Calen Walker of Shreveport, La., Halee Vasquez of Henderson, and Charles Quigley of Houston.
"This was a wonderful way to close out the regular season," Dr. Franklin said. We're finishing on a high note as we prepare for the national tournament coming up at the end of the month. The future looks very bright for the ETBU Debate Team."
This was the final regular season tournament for the ETBU squad. The team will next compete at the IPDA National Championship Tournament in Baytown, Texas March 31-April 3.
(Visited 290 times, 1 visits today)