Piney Woods News Photo
Six-year-olds honored by Marshall Fire Dept. for brave act
---
Three-year-old doing fine after 'near-drowning'
By Becky Holland, pineywoodsnews@yahoo.com
MARSHALL – Battalion Chief and Emergency Services Supervisor  for the Marshall Fire Department, Randall Jeans, is an advocate for people of all ages knowing First Aid and CPR.
And after an event that could have ended tragically on June 5, Jeans is an even stronger proponent for the life-saving technique.
It was a nice summer day, and Jeans was hosting a family cook-out in his backyard around his swimming pool for his parents and other family. According to Jeans, it was just a typical family get-together.
That all changed in a matter of minutes when the unintended happened. Jeans' niece, Hayden Heath, age 3, fell into the swimming pool. Imagine it as you would as mere words can't describe the scene.
Six-year-old Warren Jeans, son of Wes and Kristal Jeans of Marshall, saw her first. He quickly  got the attention of Tristan, the son of Mark and Autumn Heath, and Hayden's brother, and said, "Isn't that your sister at the bottom of the pool?"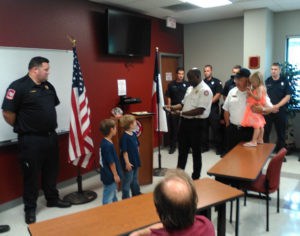 Tristan wasted no time in getting help and alerted adults nearby as to what happened. Immediately, Randall Jeans' wife, Kimberly, his son, Hunter and Matt Cooper, family friend and a corporal with the Titus County Sheriff's Department, dove into the pool to rescue Hayden. Cooper was the first to reach the child, and brought her out. She was unresponsive.
Randall Jeans said, "I don't remember much that happened after that – I came running and told them to bring her to me. I immediately started CPR. My dad, who is a retired fire fighter, came and helped, and my sister-in-law, who is a registered nurse, was on site as well."
Once the ambulance arrived, MFD paramedics continued. Those responding from the MFD were Battalion Chief Kenny Davis, Lt. John Wilson, Firefighters Justin Cox, Kyle Cater and Probationary Firefighter Jordan Allen.
Marshall Police officers escorted the ambulance to the hospital. Jeans said, "It is standard for police officers to help us in the case of transporting any critical child case." Those assisting from the Marshall Police Department were Sgt. Scott Smith, Sgt. Kenny Phillips, Officer Justin Mills and Officer Justin Clark.
Hayden survived, and appears to have no effects from the near drowning incident. In fact, she was skipping around and enjoying a party that was given to honor her brother, Tristan and cousin, Warren, Monday, June 13 at the Marshall Fire Department. Both boys were given plaques, MFD t-shirts and honorary Junior Fire Chief certificates for their bravery and quick thinking in getting help for Hayden.
The boys were surrounded by firefighters and paramedics during the ceremony.
In presenting both boys with their certificates and awards, MFD Fire Chief Reggie Cooper said, "All too often we stress the issues of safety, and the need for what to do in the case of the emergency. The actions of young Warren and Tristan on June 5 of this year included both, and also exemplified the meaning of courage."
"Their recognition of the need, and their actions, in spite of their fears, truly defines courage, and made the difference between life and death in those rapid moments," Chief Cooper said. I am so thankful that God can use anyone, despite the age, to do His will."
Randall Jeans agreed. The swimming pool has been taken down at his house, and he is working at planning community-wide First Aid and CPR safety classes for the city of Marshall.
As for little Hayden, Tristan and Warren, they are back to being the kids they are supposed to be.
For more information about hosting a First Aid and CPR class or having the Marshall Fire Department conduct safety presentations for your class, organization or church, call Randall Jeans at 903-935-4585.
https://youtu.be/4SNKHR8_8sI
https://youtu.be/NDWWWSrgK70
(Visited 486 times, 1 visits today)